Pastor Biography
Apostle, Dr. LaReese L. Howell
New Horizons In Faith Ministries, Int,L
Senior Pastor
81 West Campbellton Street Home 770 – 306-0270
Fairburn, Georgia 30213 E-mail: drllhowell8
@yahoo.com

Curriculum Vitae
Leadership
Senior Pastor, New Horizons In Faith Church, International
CEO & Exec. Dir. New Horizons Development Center, Inc.
Retired Staff Chaplain, Major, Air Univ., Chapel Service Institute
Pastoral Experience
1998-Present: Organized and developed, (before USAFC retirement) New Horizons In Faith Church & Development Center
Over fourteen years experienced as a Senior Pastor ministering to community civic leadership, providing local and global support Church; Ministries: food bank feeding poor, clothes closet, free Clinical Therapist counseling, providing care to hospice families, Youth after school mentoring,/ summer Camp / music lessons / computer learning / teen-pregnancy and addiction counseling, GED, crisis prevention, job readiness, Senior activities adventures, Ministers Ed classes
Youth Summer Camp:
Bible lesson, curriculum development, recreational activities, computer literacy, exercise program
character building, enhance educational and cultural skills, parent / child counseling, music lesson
Previous Day-Care Center:
Monday – Friday (ages six months through five years), preparation for "Pre K", arts and crafts, mentoring, parental nurturing
After School Center:
Pick-up(s), certified Georgia teacher and certified Child Care employees assisting with learning disorders and home-work assistance, mentoring, arts and crafts, pre-school learning, music class teacher, therapeutic development coping skills
Developed Therapeutic Counseling Center:
1989-present, Organized Global and local operation Center (501 © 3 ) incorporation, providing Civic and organizational crisis counseling, youth summer activities, retired teachers mentoring and teaching after school slow learners, youth programs teaching coping and incorporating life skills development; low self-esteem, teen-pregnancy, crisis counseling, sexual – verbal abuse, parenting skills, GED Grants funded and local organizations
1980-1984, Served as associate minister (Wheat Street Baptist Church) Atlanta, GA to the late Dr. William Holmes Borders, Sr. (ref ordination) Responsibilities: conduct Youth activities, developed and taught adult Sunday School; Conduct pulpit order for Church ministers duties, provide for seniors home care ministry, Drive Sr. Pastor to speaking engagements, selling his books and providing care
U.C. Air Force Staff Chaplain
– 2001-2005, Staff Chaplain Maxwell AFB, Alabama, Worked directly for two Star General in pentagon
Class Professor: teaching Chaplains effective ministry, Pluralism, Middle East Religion, Leadership association
Developed and taught college materials sent from the President to the Pentagon then sent to college for college development and classroom instruction
– Developed examination materials, testing students cognitive domains comprehension and execution
– 2000-2005, Senior to Wing Chaplain, Robins AFB, GA; development of eight million chapel renovation
Pastoral ten thousand membership, responsibilities: Preaching, Teaching, Supervised 8 Chaplains
– 1996-2000, Chaplain: Taught largest seminar on Co-Dependency, twenty one year's counseling personnel-from Gulf War to Iraq, dysfunctional families, death notification, Commander to Security Police counseling, homes and Hospital visitations
– 1985-:1996, How to do effective ministry in a pluralistic environment, Hospital and Global Ministry
Maxwell Base level Chaplain, Alabama; Robins Air Force base, Georgia, Griffus AFB, Rome NY, Camp Casey AFB, Soul Korea, etc.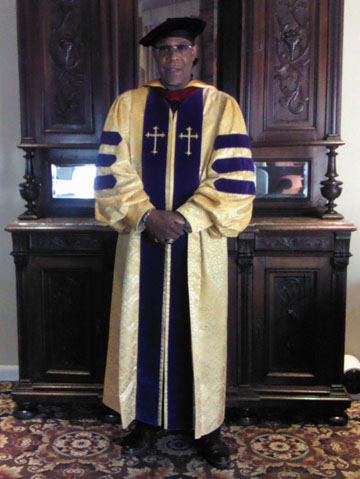 Education
– College Academic Instructor's School, (Certified) Air University, Maxwell Alabama, 2003
– Association for Clinical Pastoral Education (A.C.P.E.), Atlanta, GA.,1989
– Doctorate of Ministry, Hebrew Biblical Center; Jerusalem, Israel, 1988
– Master of Divinity, Emory University (Candler School of Theology), Atlanta, GA, 1987
– B. A., Georgia State University (Philosophy & Ethics), Atlanta, GA, 1984
– Associate, Atlanta Junior College, (Speech & Drama), Atlanta, GA, 1979
Military Education
• University Professor: Air University, Chaplain Service Institute, Maxwell Air Force Base Montgomery, AL, 2002-2005
• Certified Critical Incident Stress Management: basic, 2000
• Certified Singles Ministry, Professional Continuing Education, 1994
Squadron Officer's School (Residence), 1992 (Advance Empowering Leadership)
• Chaplain Orientation Course, 1988
• Chaplain Candidate Familiarization Course, 1985
Civilian Certifications:
A.C.P.E. certified in Clinical Pastoral Education, Psycho Therapy (specialty – Death and Dying Hospital ministry)
Former F.C.C. Broadcasting License (expired)
www.newhorizonsinfaithchurch.com

Community Affairs
• Former Advisory council board member, Atlanta, GA Metro Youth Detention Center
• Served as designated Mentor for Creekside High School, South Fulton; Atlanta, GA
• Served as seminar facilitator for Civil Air Patrol, State of GA
• Served as coalition to reduce homelessness in Metro Atlanta
• Serve as Youth In Action Crisis committee, Atlanta, GA
• Serve as committee, Cedar Grove community, Fairburn, GA
Honors
• The Meritorious Service Medal, (Distinguished Honor) 2002-2005
• Certificate of United States Air Force Chaplain, Former President Bush, Commander in Chief, 2005
• Certificate of Retirement, John P. Jumper, General, USAF, 2005
• Professional Achievement honor into U S Air Force, Former President Ronald Reagan, 1987
• New Horizons Development Center, Inc., 501(c) (3), registered on Dun and Bradstreet, honored as one of the most successful business in Fairburn, GA
• List some award: distinguished USAF (2) Commendation Medal, Meritorious Service, 1997;
2nd Oak Leaf 2002
• United States Air Force, eleven awards and ribbons 1968-1970; 1985-2005
• Achievement award, Atlanta State Representative 2005
• Who's Who Among American College Students, 1990
• Proclamation / the Atlanta Mayor and City Council, 1988, Howell's Day
• Who's Who Among American Junior College Students, 1979
• Professional Marketing, Sales Training Institute, speaker of the class, 1978

Travel
Global Ministry:
• Developed and organized seminars and preached in New York; Louisville, KY; Virginia;
Ohio; Denver and Colorado Springs; Florida; Alabama; Soul Korea; Bermuda; etc.
International:
• Seoul, Korea; Jerusalem, Israel; Caribbean; Canada; Mexico; Puerto Rico; Nassau;
Philippines; Hong Kong; Hawaii and Viet Nam
Family
• Married with four children and host of grandchildren, Mother In Law
• Mother and Father deceased, two sisters and two brothers- preachers